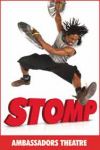 Stomp
Kde Ambassadors Theatre
Cena od 778 Kč
Stomp v Londýně prostě musíte zažít. 100 minut čisté syrové energie. Vstupenky na londýnské vystoupení Stomp zakoupíte zde – za zvýhodněnou cenu!

Nakažlivý rytmus a syrová energie! Probuďte v sobě rytmus!

Stomp není tradiční muzikál, avšak je to mnohem více než pouhý koncert.

STOMP dokáží v rytmus proměnit vše od různých odpadků, starých bot a kuchyňských dřezů až po košťata. Neuvěříte, dokud to neuvidíte, neuslyšíte a nepocítíte.

Stomp je zaručený úspěch. Dvě skupiny jsou neustále na turné a brázdí Spojené státy a Evropu. Navštívily již více než 40 zemí. Stomp nelze vysvětlit. Stomp se musí zažít!
1
Fantastické
5.0
Reviews from 1 customer reviews
Stomp zazitek
Na predstaveni Stomp v Ambassador theatre jsem byla jiz podruhe a podruhe jsem odchazela absolutne nadsena.Predstaveni je vtipne,hrave a je to zazitek,ktery je opravdu originalni!male divadylko ma obrovskou vyhodu v tom, jak jste blizko ucinkujicim a nevyhodu v tom,ze mista na nohy neni na zbyt. Booking pres tento web byl naprosto jednoduchy a bez problemu.stomp jsou opravdu jedinecni!doporucuji!
Stomp Recenze
"Entrancing, Exhilarating. Terrific"
The Independent
---
"Pure Stage Magic"
Sunday Telegraph
---
"This unique percussion and dance show has evolved over the last 11 years from humble street theatre in Brighton into a worldwide, multimedia sensation"
The Stage
---
Informace o místě
Zobrazit informace
Večerní
Monday, Thursday, Friday and Saturday 8pm
Odpolední
Thursday and Saturday, 3pm, Sunday 3pm and 6pm.
Předprodej od
2014-04-24
Předprodej do
2014-12-21
Délka představení:
1 hour 40 minutes
Pokyny
Pokyny
Leicester Square Station (Piccadilly/Northern Line)

Podívejte se na mapu