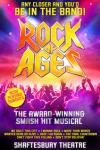 Rock of Ages
Kde Shaftesbury Theatre
Cena od 1802 Kč
ROCK OF AGES OPENS SEPTEMBER 2011 IN LONDON!

The musical Rock of Ages, features 28 Rock Anthems Including: Don't Stop Believin , Wanted Dead or Alive , We Built This City , The Final Countdown , I Wanna Know What Love Is and Here I Go Again .

Rock of Ages is a celebration of classic 80's rock culture, and tells the hilarious story of a small town girl and a big city rocker falling in love to the greatest songs of the decade. An awesomely good time where big hair meets big dreams.

Set to take the UK by storm, it will rock the Shaftesbury Theatre from September 2011! Be one of the first to experience all the hilarious fun of London's hot new rock musical .

Contains scenes unsuitable for children under 12!

Rock of Ages Recenze
"One of the most unashamedly fun nights out you can have in the West End"
The Stage
---
"A riotous trip down Eighties rock?s memory lane will send you into a foot-stomping frenzy"
The Sun
---
"It will rock your world"
Daily Mirror
---
Rock of Ages Tisková zpráva
Rock of Ages to hit London!The smash-hit Broadway musical Rock of Ages is set to rock London this autumn as it transfers to the Shaftesbury Theatre from 31 August 2011. Rock of Ages celebrates (glam)rock ...


Bližší
Informace o místě
Zobrazit informace
Večerní
Tuesday to Friday 7.30pm, Saturday 8pm, Sunday 7pm
Odpolední
Friday 5.30pm (until 23rd April), Saturday 4pm, Sunday 3.30pm (from 24th April)
Předprodej od
2011-08-23
Předprodej do
2013-01-06
Délka představení:
2 hours 20 minutes
Pokyny
Pokyny
Tottenham Court Road Station (Northern/Central Line)

Podívejte se na mapu