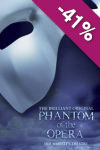 Phantom of the Opera
Kde Her Majesty's Theatre
Cena od 1215 Kč
Phantom of the Opera v Londýně je muzikál všech muzikálů, mistrovské dílo Andrewa Lloyda Webbera. Vstupenky na představení zakoupíte zde.

Muzikál The Phantom of the Opera vznikl na motivy francouzské romantické předlohy Gastona Lerouxe a pojednává o děsivé legendární postavě, která se zjevuje v budově pařížské opery a představuje bájného ducha opery. Londýnské provedení je proslulé jednou z nejokázalejších scén, kostýmů a zvláštních efektů, které kdy byly na jevišti uvedeny. The Phantom of the Opera je bezezporu hudebním fenoménem.
3
Fantastické
5.0
Reviews from 3 customer reviews
Phantom of the Opera
Nádherné a výpravné představení, dechberoucí hudba, divadlo s nezapomenutelnou atmosférou. Dress code není vyžadován.
Fantom Opery
Nádherný, velmi výpravný muzikál s krásnou hudbou, která Vás zarazí do sedadel. Skvělý nezapomenutelný zážitek.
Představení dne 24.7.2013
Představení bylo vynikající, výprava i výkony herců na špičkové úrovni, určitě doporučujeme návštěvu tohoto muzikálu každému, kdo přijede na poznávací pobyt do Londýna. Návštěva muzikálu patří ke koloritu tohoto města a je nezbytným doplňkem poznání jeho kultury a historie.
Phantom of the Opera Recenze
"Soaring ballads and sensational stage effects."
The Daily Telegraph
---
Phantom of the Opera Tisková zpráva
MAJOR CAST CHANGES IN THE SMASH HIT ANDREW LLOYD WEBBER MUSICAL "THE PHANTOM OF THE OPERA" AT HER MAJESTY'S THEATRE IN LONDON! EARL CARPENTER TO RETURN TO THE ROLE OF 'THE PHANTOM' FROM MONDAY 12 ...


Bližší
Informace o místě
Zobrazit informace
Večerní
Monday to Saturday 7.30pm
Odpolední
Thursday and Saturday 2.30pm
Předprodej od
2014-04-21
Předprodej do
2015-04-25
Délka představení:
2 hours 30 minutes
Pokyny
Pokyny
Piccadilly Circus Station, exit Haymarket (Bakerloo/Piccadilly Line)

Podívejte se na mapu