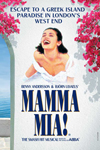 Mamma Mia! Until 1st September
Kde Prince of Wales Theatre
Cena od 2024 Kč
Londýnský muzikál Mamma Mia s písničkami skupiny ABBA. Vstupenky do divadla Prince of Wales Theatre zakoupíte zde.

Nadčasové písničky legendární skupiny ABBA vyprávějí příběh plný lásky, smíchu a přátelství.

Mamma Mia je fenomenální trhák londýnské muzikálové scény. Hudbu již před mnoha lety zajistila skupina ABBA, my vám dnes zajistíme skvělé vstupenky, abyste si tento skvost mohli vychutnat na scéně Prince of Wales Theatre.

Do postav, příběhu a v neposlední řadě nezapomenutelné hudby skupiny ABBA se dodnes ve 175 městech celého světa zamilovalo více než 45 milionů lidí. Mamma Mia je vrcholný popový muzikál se zárukou dobré nálady.

Z pera scenáristky Catherine Johnsonové pochází zábavný příběh, který nás zavede na idylický řecký ostrov, kde mladá dívka pátrá den před svou svatbou po svém otci, který ji odvede k oltáři. Na ostrov se tak po dvaceti letech vracejí tři muži, kandidáti na otcovství.

Příběh plný lásky, smíchu a přátelství vyprávěný geniální formou nadčasových písniček legendární skupiny ABBA přináší divákům večer co večer výjimečný zážitek.

Tento muzikál nabízí 27 nejznámějších skladeb skupiny ABBA, mimo jiné Dancing Queen, Knowing Me Knowing You, Super Trouper a Mamma Mia!. Mamma Mia je v současné době nejhranějším muzikálem na světě.

Jeho popularita se ještě zvýšila po uvedení filmu Mamma Mia, který se v kinech objevil v roce 2008. Mamma Mia je zkrátka dlouhý příběh, jehož úspěch nehasne.

NB: From SEPTEMBER 2012 MAMMA MIA! will move to NEVELLO THEATRE. Tickets from Sep. 2012 can be booked HERE!
Mamma Mia! Until 1st September Recenze
"A GLORIOUS EVENING OF FUN!"
Daily Mail
---
"AN IRRESISTIBLY ENJOYABLE HIT! SHEER HEAVEN!"
Daily Telegraph
---
"INFECTIOUS THEATRICAL ENTERTAINMENT!"
Financial Times
---
Mamma Mia! Until 1st September Tisková zpráva
Night after night, audiences are having the time of their lives at MAMMA MIA!. Catherine Johnson's sunny, funny story of love, laughter and friendship has been thrilling London audiences for over 10 years. More recently ...


Bližší
Informace o místě
Zobrazit informace
Večerní
Monday to Thursday and Saturday 7:30pm - Friday 8:30pm
Odpolední
Friday 5pm and Saturday 3pm
Předprodej do
2012-09-01
Délka představení:
2 hours 45 minutes
Pokyny
Pokyny
Piccadilly Circus (Bakerloo, Piccadilly line)

Podívejte se na mapu