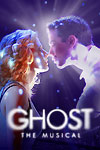 Ghost The Musical
Kde Piccadilly Theatre
Cena od 2065 Kč
V létě bude na jevišti Londýnského Piccadilly Theatre představen muzikál Duch, podle filmu s Patrickem Swayze, Whoopi Goldberg a Demi Moore, který získal cenu Akademie.

Nový, oslnivý muzikál DUCH, podle fenomenálního, Oskarem oceněného filmu společnosti Paramount Pictures, k němuž scénář napsal Bruce Joel Rubin a účinkovali v něm Patrick Swayze, Demi Moore a Whoopi Goldberg, bude uveden již v červnu 2011 v divadle Piccadilly Theatre.

Nadčasová fantazie o síle lásky ukazuje Sama uvězněného jako duch mezi tímto a posmrtným životem. Sam se snaží pomocí falešného médium komunikovat se svou dívkou Molly, s nadějí, že jí ochrání před svým vrahem.

Román, drama a vzrušení; Bruce Joel Rubin adaptoval svůj Oscarem ověnčený scénář pro divadlo. Muzikál DUCH doprovází nová podmanivá hudba a texty od legendárního vítěze Grammy Dave Stewarta (Eurythmics) a Glena Ballarda (napsal pro Michaela Jacksona Man In The Mirror), nemůže zde také chybět nezapomenutelná skladba "Unchained Melody".

Režie – mnohokrát oceňován Matthew Warchus, výprava – Rob Howell, s neobvyklými a ohromujícími efekty od Paula Kieve (tvůrce speciálních efektů pro film Harry Potter a vězeň Azkabanu) – s těmito tvůrci muzikál DUCH zaručuje magické, povznášející zážitky z představení, které bude divadelní událostí roku 2011.
Ghost The Musical Recenze
"Looks set to keep audiences laughing, gasping and sniffling back tears for a long time to come."
Daily Telegraph
---
"A new West End Hit has landed."
Time Out
---
Ghost The Musical Tisková zpráva
Ghost the Musical at Piccadilly Theatre GHOST is a timeless fantasy about the power of love. Sam is trapped as a ghost between this world and the next trying to communicate with his girlfriend Molly ...


Bližší
Informace o místě
Zobrazit informace
Večerní
Monday to Saturday 7.30 pm
Odpolední
Thursday and Saturday 2.30 pm
Předprodej od
2011-06-24
Předprodej do
2012-10-06
Délka představení:
2 hours 30 minutes
Pokyny
Pokyny
Piccadilly Circus, exit Shaftesbury Avenue (Bakerloo/Piccadilly Line)

Podívejte se na mapu