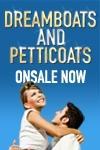 Dreamboats and Petticoats
Kde Wyndham's Theatre
Cena od 2551 Kč
Londýnské představení Dreamboats and Petticoats je úchvatný hudební výlet do šedesátých let. Vstupenky zakoupíte zde!

Představení Dreamboats and Petticoats vás přenese do 60. let 20. století, kdy každý týden přinesl nový hit, který se stal klasikou. Poslechněte si písně Roye Orbisona, The Shadows, Eddie Cochrana, Billyho Furyho, Chucka Berryho a mnoha dalších.

Zazní zde nesmrtelné písně jako například Lets Dance, To Know Him Is To Love Him, Shaking All Over, In Dreams, Bobby's Girl, Three Steps To Heaven, Little Town Flirt, Only Sixteen, Almost Grown, Sleepwalk, Runaround Sue, The Locomotion, Happy Birthday Sweet 16, What A Wonderful World, Half Way To Paradise, Will You Still Love Me Tomorrow, Let's Twist Again a spousta dalších hitů ze zlaté hudební éry.
Dreamboats and Petticoats Recenze
"This lovely show brings the memories flooding back."
The Daily Telegraph
---
"Dreamboats is a nostalgia feast aimed at an audience that listens to Brian Matthew's Sounds of the Sixties on Radio 2 and remembers daring to go and see Alfred Hitchcock's Psycho"
The Independent
---
Informace o místě
Zobrazit informace
Večerní
Monday to Saturday 7.30pm
Odpolední
Thursday 3pm, Saturday 4pm
Předprodej od
2012-10-16
Předprodej do
2013-01-19
Délka představení:
2 hours 10 minutes
Pokyny
Pokyny
Leicester Square Station (Piccadilly/Northern Line)

Podívejte se na mapu